Integration Process
Integration Options – Out of the Box
GeoRoom provides developers with a wide range of rapid integration options for connecting their existing enterprise applications and databases to the map-based workflow and reporting features of GeoRoom.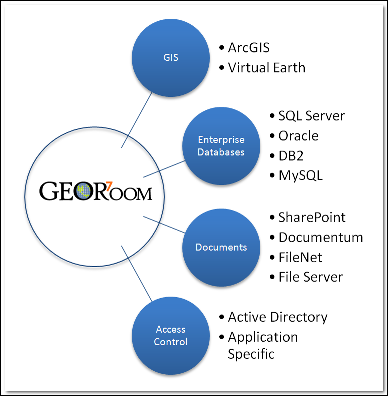 GeoRoom has, at its heart, a Business Object Builder, which parses XML configuration files edited during the customization process to define secure connections to a wide range of external data sources and systems, including relational databases, web services, document management systems, authentication servers, and free-form data sources like file servers.
This means that connections can be established and records and documents linked to the mapping system in a fraction of the time required by traditional integration projects.
During this process, spatial cross-reference points can be established, allowing any database field, record or document to be tied back to the relevant point on the map and indexed for rapid searching in the spatial database, even if that field, record or document is not directly spatially referenced or indexed in its native application.
This can be a powerful tool for tying projects together, managing business processes across systems and departments and fulfilling due diligence and corporate compliance duties.
Key Integration Features
The GeoRoom Business Object Builder allows rapid integration with existing enterprise databases, including SQL Server, Oracle, DB2, and MySQL.
GeoRoom provides integration paths for existing document management systems, including Documentum, FileNet, Laserfiche and SharePoint.
Integrate with existing ESRI ArcGIS mapping servers, including geodatabases and ArcSDE, or use hosted mapping servers from R7 Solutions.
All integration is controlled with XML files. Connections can be configured quickly and custom integration is unnecessary.
Load any number of map layers and images, including high resolution aerial photography.
Associate database records and documents with locations on the map automatically using cross-reference geocoding, if a reference can be found. Or, manually move records and documents to any point or project area.
Integrate with existing access control systems including Microsoft Active Directory and Oracle database security tables.