Coates Field Service Deploys Custom GeoIntelis Solution

R7 Solutions developed a custom GeoIntelis solution for Coates Field Service that combines all the power and features of GeoIntelis Pro with real-time synchronization with internal project tracking databases managed and maintained on-site at Coates Field Service.
The system connects to the company's project tracking database 4 times per minute, providing real-time information without overloading bandwidth or server capacities. The geodatabase designed for the project mirrors the company's major status fields, allowing for real-time visibility on a parcel-by-parcel basis into the status of 7 critical project milestones for each parcel.
The result is a right-of-way GIS and project management solution that includes multiple fields and layers of right-of-way project status data that change in real-time, as land agents report their progress and changes are made in the company's internal database.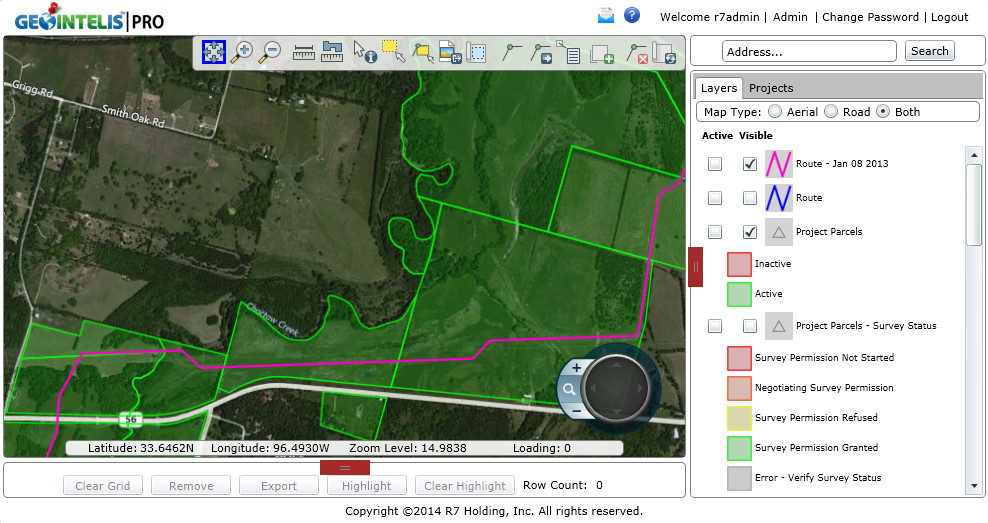 With the solution, Coates Field Service avoided training, development and management costs for any new technology, was able to use its existing internal database and provide both internal managers and client stakeholders with improved transparency and accountability.
The solution provides clients with a special GeoIntelis portal that only displays data intended for client access. This allowed Coates Field Service to keep their clients up-to-date in real-time with no additional overhead or management time.
Finally, the custom GeoIntelis implementation incorporated custom client-ready parcel status reports that could be produced with a single click. The reports included an image of the land parcel selected and a list of the critical status fields for that land parcel, as well as Coates Field Service notes and commentary on the land parcel.
About GeoIntelis
GeoIntelis is a complete web-based mapping system (GIS) that provides a "zero-capital cost" solution for energy companies, professional land, engineering, and surveying firms, and other companies that rely on instant access to visual mapping solutions. For more information on GeoIntelis, visit the GeoIntelis Overview page.
About Coates Field Service
Since 1950, Coates Field Service, Inc. has been exclusively in the business of land and right-of-way acquisition services. With headquarters in Oklahoma City, Oklahoma and offices in Houston, Texas; Tallahassee, Florida; Walnut Creek, California; Albany, New York; and British Columbia, Coates Field Service provides clients with a comprehensive suite of land and right-of-way acquisition services. Clients include communications companies, transit authorities, pipeline companies, and electric transmission utilities. The first land services company of its kind, Coates maintains a reputation for the highest standards of service and professionalism in the industry. For more information about Coates Field Service, call (405) 528-5676 or visit www.coatesfieldservice.com.