Application Hosting
Hosting of mission-critical business applications is an R7 Solutions specialty. Our focus on managed mapping systems has required the development of best-practices that go beyond the industry norm to produce a higher degree of reliability, managability, responsiveness and client-support than a typical dedicated hosting service might provide.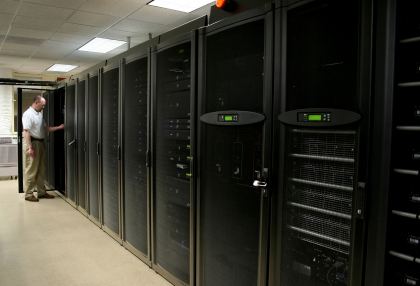 Moreover, because of our full-service managed hosting offerings and role in application development, we retain not only network and server expertise, but also application-level expertise, which gives us much greater insight into the overall application delivery environment.
R7 Solutions managed application hosting is housed in a top-tier data center co-location facility that serves as a regional telecommunications switching center.
This is a "level 1" hosting center which also houses fiber optic switching for the major telecommuncations providers in the region, access to the metropolitan area network (MAN), hosts networks serving local government, and downtown cellular switching.
Our data center also houses one of the major metropolitan banks and shares a floor with the bank treasury, ensuring an armed security presence at all times.
R7 Solutions maintains dedicated rackspace in this facility and co-location facility engineers have exclusive access to R7 Solutions servers, switches and firewalls. All client server are located in physical proximity to R7 Solutions' existing servers and are monitored and maintained with the same level of care and dedication that is provided to our existing application server cluster.
This hosting center provides a range of top-tier security and reliability features:
24 x 7 x 365 on-site security including separate key-card access to the building, hosting center and server rooms
Video monitoring of all entrances and hosting areas and remote video and alarm system monitoring
24 x 7 x 365 on-site technical staff with access to manage, re-start and repair servers and networking equipment
Fully redundant high-capacity power feeds
Uninterruptible power supply is guaranteed through redundant power infrastructure including dedicated battery banks
On-site diesel generators with on-site fuel storage and long-standing fuel contracts
High capacity fully redundant HVAC temperature control systems to provide a constant operating temperature for the facility
Controlled and monitored temperature and humidity environment
HALON fire threat detection and suppression systems including pre-warning systems
24 x 7 x 365 application accessibility monitoring from remote US and international locations with continuous SMS message broadcast to technical staff in the event of a failure