Growing Telecommunications Company adds GeoIntelis to Toolkit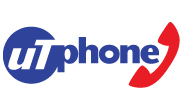 Oklahoma City, OK, August 1, 2013 – Rapidly growing regional telecommunications company, uTphone, has added GeoIntelis to its toolkit, helping to fuel in-depth analysis and strategic planning.
GeoIntelis provides telecommunications companies with a fully managed geospatial and workflow solution for locating, mapping, analyzing and planning around their customer locations, asset locations, and partner or acquisition assets.
About uTphone Inc.
uTphone Inc. is a wired and wireless regional telecommunications company serving the pre-paid market. The company was established in 2004 to provide Oklahomans with quality home telephone service. They are the provider of choice for over 25,000 Oklahomans. Headquartered in Oklahoma City, they provide jobs and services throughout the state.
About R7 Solutions
R7 Solutions develops and implements award-winning enterprise software for the energy, transportation, real estate and public sectors. The company's flagship product is GeoIntelis, the real-time web-based map and data integration suite. Founded in 2001, the company has unique expertise in geographic information systems, enterprise integration of geospatial data, document management and workflow systems. For more information, please contact R7 Solutions at 713.529.3300 or via e-mail.