GeoIntelis Overview

GeoIntelis is a complete web-based mapping system (GIS) that provides a "zero-capital cost" solution for energy companies, professional land, engineering, and surveying firms, and other companies that rely on instant access to visual mapping solutions.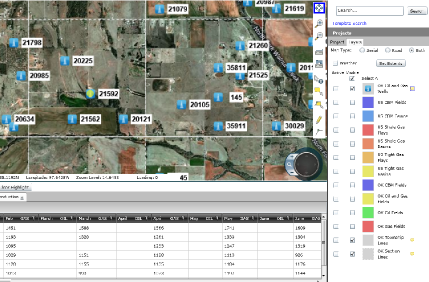 GeoIntelis is either hosted and managed by R7 Solutions on a monthly fee basis or installed on-site at the client's data center. The product is designed to be easy for both novices and advanced users to start using immediately, while also incorporating the full power of an enterprise geodatabase and GIS server.
Product Features
Hosted GIS with integrated data collection forms
Enterprise geodatabase and full GIS server infrastructure
Available anywhere from a web browser, 24/7
Set monthly fee; No surprises; Unlimited transactions
No software to buy or data to load
No contracts – cancel at any time
Unlimited data layers
High resolution aerial photography and streets, roads and places
Search based on address, lat/long, or within the text of your Project data
Free data loading service included; Get your company's data sets loaded for free
Free monthly data updates included with your account
Many more features! Complete Feature List
Business Benefits
Overcome application and database "silos" that isolate departmental databases and create bottlenecks.
Get more work done with the same systems, the same people and the same budget. Make your business process easier and faster.
Map-enable your existing applications and leverage your investment in GIS. Make it all work together without building custom software.
Enforce data standardization and consolidation. Stop hunting for data you thought you had, like geophysical data sets, lease documents and engineering as-built files. Stop trying to manually reconcile locations and contract terms. Put it all on the map.
Provide real-time access to mission-critical data. Give your managers on the frontline access to the best corporate information available, when it is available.
Improve project visibility, increase compliance and reduce risk.