GeoIntelis Launch!
We are pleased to announce the launch of GeoIntelis, our new web-based geographic information and workflow management system.
That is a mouthful. So what is GeoIntelis, really?
GeoIntelis is the distillation of 10 years of experience building GIS, document management and workflow systems for both large oil and gas companies and small real estate development companies and local governments.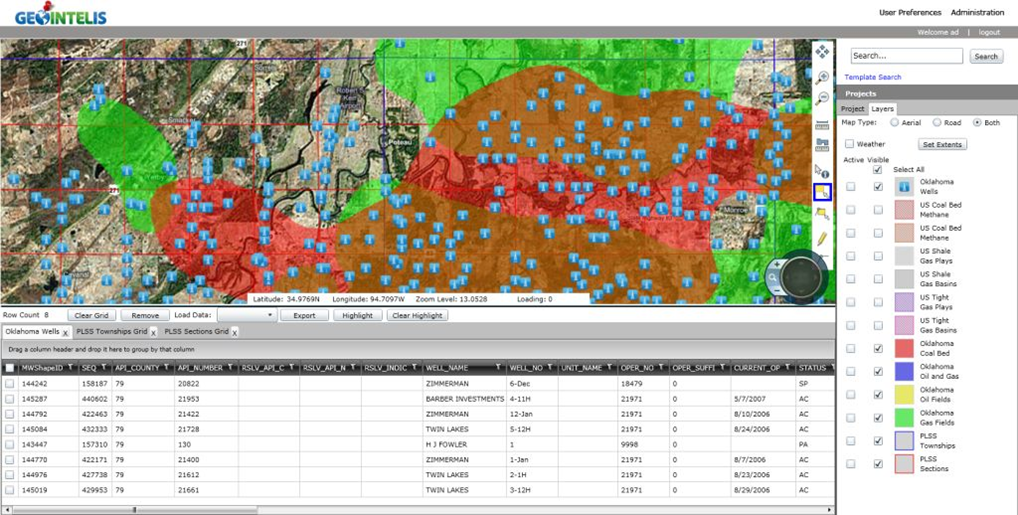 GeoIntelis is a flexible, powerful, easy-to-use web-based GIS that is both affordable and incorporates many of the user collaboration, document management and workflow features we have developed for these organizations on a custom basis over the years.
(GeoIntelis is also a worthy successor to our popular GeoRoom product, which is an application development framework for ESRI's ArcGIS Server product.)
So, what does GeoIntelis do for the mid-sized firm or department that operates assets (wells, pipelines, real estate, plants and facilities) over a large area?
GeoIntelis is an affordable replacement for the typical mix of desktop and client/server GIS systems that are currently seen as the only way to "do GIS" in many companies. You have options!
Provides pre-built data set subscriptions, out of the box, including oil and gas well locations, solar and wind energy surveys, land tract ownership data, and a growing range of additional data. The sky is the limit on what data we can load and we are open to suggestions for both free and proprietary data sets to include.
Provides advanced features like built-in document storage and project organization, right in the interface. If you need to organize and share environmental reports, surveys, CAD drawings and leases in one place, GeoIntelis can do that.
Provides more subtle but powerful features that we've found to be essential for anyone dealing with land. For example, all of our packages include the local land survey grid (Eastern US, Western US, Texas, etc.) and a Finder search, to allow you to zoom to, for example, a particular Township/Range/Section instantly.
Complete compatibility with existing data sets. If you have shapefiles you need loaded, we can do that easily with GeoIntelis and it is included in your subscription. KML, KMZ, and .E00 files are also OK. Connections to dynamic KML feeds, WMS services, GeoRSS feeds, or even non-spatial data sources are fine. GeoIntelis is flexible, as is our development philosophy. If there is a way to get the data into GeoIntelis, we will find it. We geo-code non-spatial data sets on a regular basis.
GeoIntelis is both secure as private team work space and can be used as a public portal. You can give users editing control or read-only accounts, as well as publishing a public portal with a subset of your data. Our goal is to make GeoIntelis your single go-to solution for managing maps, which means you need both.
I can't really describe all of the features of GeoIntelis, and we're adding more all the time. Please explore our website as we add more tours, screenshots, demonstrations and tutorials.
We're also very open to suggestions. Just drop us an e-mail, tweet or FaceBook post and we'll check it out.