Incident Mapping – Tracking Wildfire Emergency in Central US with GeoIntelis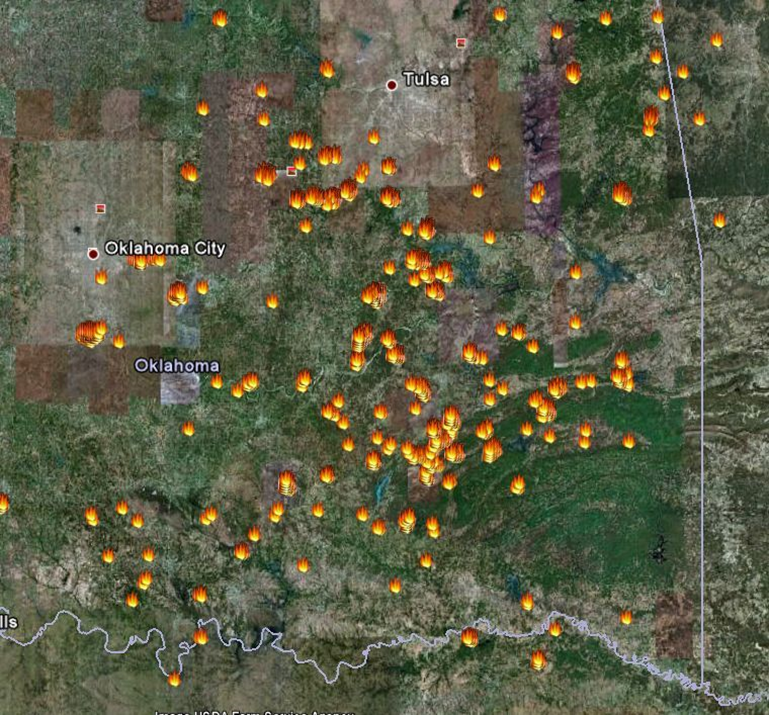 While serious crisis unfold in Libya and Japan, there is also a wildfire outbreak in the central US. The governor of Oklahoma declared a statewide emergency a few hours ago, and response crews are currently mobilizing.
We are using GeoIntelis to track and monitor this outbreak in real-time in order to protect client personnel and assets who may become threatened.
Using US infrared satellite data we are tracking North Texas and Oklahoma wildfire locations against pipeline and oil and gas asset maps maintained for several clients to aide in contingency and evacuation planning of critical personnel and mobile assets.
By pulling a low-latency NOAA satellite feed of infrared hotspots into GeoIntelis and displaying this satellite data against our existing data for counties, land parcel boundaries, pipelines, high voltage transmission lines and oil and gas well locations, we are able to determine what assets may become threatened by developing wildfires and notify the relevant operations staff.
For information on using these resources to defend and protect your personnel and field assets, for incident response, or for routine maintenance management, please contact us at any time on our toll-free number an 1-877-GIS-4-WEB.