McDade, Smith Gould, Johnson, Mason & Co. Purchase GeoRoom On Demand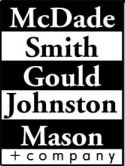 HOUSTON, TX, March 12, 2005 – Prominent Houston-based commercial real estate firm McDade, Smith, Gould, Johnson, Mason & Company completed an agreement today to purchase an on-demand GeoRoom system from R7 Solutions. Delivered over the web without a need for a local server or installation at the client office, on-demand services encompass hosting, management and delivery in a single package, dramatically lowering the capital cost of sophisticated GIS and workflow tools for real estate.
The system will provide the firm with a map-based real estate research and project management system with boundaries, roads, high resolution aerials, local land parcel data, school districts, waterways, hazards, and a wide variety of other map features while requiring the firm to purchase no additional hardware, software or specialized IT services to support the system.
Delivered over the web through a secure browser connection, GeoRoom on-demand allows the firm to complete basic research and due diligence much faster, bring consistency and effeciency to their real estate project management, and deliver a more professional and more competitive product.
About McDade
McDade, Smith, Gould, Johnson & Mason was founded in 1991 and has the largest team of experts in the marketing and acquisition of sites for retail, multi & single-family development and investment in the Greater Houston area with a collective 100+ years of experience. The firm helps clients with office space, executive suites, retail space, industrial space, vacant land, businesses for sale and investment properties.
About R7 Solutions
R7 Solutions develops and implements award-winning enterprise software for the energy, transportation, government and real estate industries. The company's flagship product is GeoRoom, the real-time web-based map and data integration suite. Founded in 2001, the company has unique expertise in geographic information systems, enterprise integration of geospatial data, document management and workflow systems. For more information, please contact R7 Solutions at 713.529.3300 or via e-mail.