Oil IT Journal Hightlights GeoRoom Finder – P2000 – File Net Integration
Houston, TX, April 12, 2005 – R7 Solutions' GeoRoom location-aware business process application was discussed this month's in Oil Information Technology Journal as a part of its coverage of the 2005 ESRI Petroleum User Group conference held in Houston, Texas. The Journal mentioned GeoRoom in regards to its utility in Geocoding: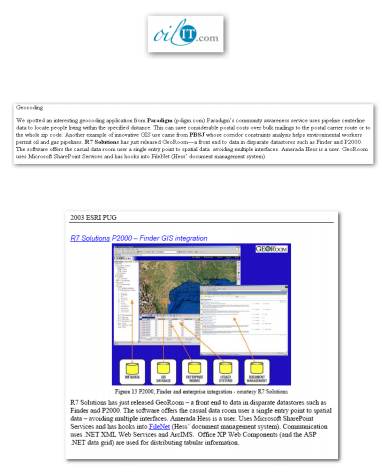 R7 Solutions has just released GeoRoom—a front end to data in disparate datastores such as Finder and P2000. The software offers the casual data room user a single entry point to spatial data avoiding multiple interfaces. Amerada Hess is a user. GeoRoom uses Microsoft SharePoint Services and has hooks into FileNet (Hess' document management system).