South Central Arc User Group (SCAUG) Event Coming on March 30 in Fort Worth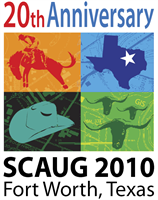 The South Central Arc User Group's annual conference for ESRI ArcGIS users is coming up in Fort Worth, Texas on March 30. 2010.
R7 Solutions will be providing demonstrations of GeoRoom, our application and integration framework for ArcGIS.
We will also be announcing our new Mapping-as-a-Service offering during the conference.
We are also happy to announce that R7 Solutions will be raffling an HD digital video camera for event participants!
This is totally gratuitous – we know – but that's what makes conference fun, right? Be sure to stop by and drop off a business card for a chance to win.